Het regent weer. Eindelijk, na een lange droge zomer. Tijd voor een lijstje van de beste regenliedjes. We hebben meteen maar twee top tienlijstjes. Die van jou kan er ook nog wel bij...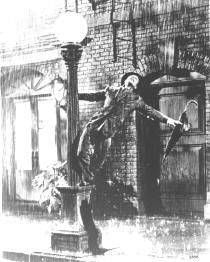 Regentoptien van Holly Moors
I can't stand the rain - Ann Peebles
Singing in the rain - Gene Kelly
Rider in the rain - Randy Newman
Fire and rain - James Taylor
It feels like rain - Aaron Neville
I wish it would rain - The Temptations
Who'll stop the rain - Creedence Clearwater Revival
Horse out in the rain - Moby Grape
Rainmaker - The Dillards
Into each life some rain must fall - Ella Fitzgerald and the Ink Spots
Regentoptien van Hans Schoen
Walkin in the rain with the one I love - Love Unlimited

Rain on the roof - Lovin Spoonful

An old raincoat won't ever let you down - Rod Stewart

Rain - Beatles

Rain and tears - Aphrodites Child

Crying in the rain - Everly Brothers

Ritme van de regen - Rob de Nijs

Farewell in the rain - Shoes

Rainy day women - Bob Dylan

It never rains in southern California - Albert Hammond
Regentoptien van Flip Zolderman:
Rainy night in Georgia - Gladys Knight and the Pips

Have you ever seen the rain - Creedence Clearwater Revival

I think it's going to rain today - Randy Newman

Gillian Welch - Wind and rain

It's raining again - Supertramp

Rainy Day People - Gordon Lightfoot

Here comes that rainy day feeling again - The Fortunes

A hard rain's a-gonna fall - Leon Russell

Dry the rain - The Beta Band

Rain oh rain - Chilliwack
Regentoptien van Martin Halma:

1. Blind Melon - No rain
2. Led Zeppelin - Fool in the rain
3. Electric Light Orchestra - Rain is falling
4. Spiritualized - Lord let it rain on me
5. Spinvis - Regen en patchoulli
6. Jan Kraak - Now the rain
7. Died Pretty - Out in the rain
8. Herman's Hermits - Don't go out into the rain
9. Vangelis - Tears in rain
10. Travis - Why does it always rain down on me?