Zingen over een collega, dat gebeurt toch vaker dan je denkt. We hebben drie lijstjes gemaakt waaruit we heel wat liedjes hebben weggelaten. Alle liedjes over Elvis bijvoorbeeld, want daar kun je een aparte lijst van samenstellen. En een liedje als "Oh Johnny, zing een liedje voor mij alleen" zul je hier ook niet vinden. Toch blijft er genoeg over, en ook hier staan we, zoals altijd, open voor aanvullingen.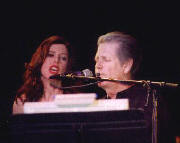 Mag ik het even over mezelf hebben?
Howlin' Wolf - I'm the Wolf
Bo Diddley - Bo Diddley
Bo Diddley - The story of Bo Diddley
Sonny Boy Williamson - The Story of Sonny Boy Williamson
Mama's & Papa's - Creeque Alley
Paul Revere and the Raiders - The Legend of Paul Revere and the Raiders
Phoebe Snow - Autobiography (Shine, shine, shine)
Them - The Story of Them
Albert Hammond - The Free Electric Band
The Roches - We
Of toch maar over een andere artiest?
Arthur Conley - Sweet Soul Music (een bewonderende opsomming van al zijn collega's)
Buddy Miles - Joe Tex
Joe Tex - You're Right, Ray Charles
Elkie Brooks - Pearl's a singer (Pearl was de bijnaam van Janis Joplin)
Eric Andersen - Pearl's Goodtime Blues
Unicorn - PF Sloan
Brian Golby - Doug Kershaw
Nitty Gritty Dirt Band - Mr Bojangles (bijnaam van Bill Robinson, een tapdancer/zanger uit de jaren dertig)
The Hollies - Hey Willie (Graham Nash werd door zijn omgeving gewoon Willie genoemd; dit nummer schreven ze toen hij de Hollies al een tijd verlaten had)
Neil Young - Hey hey my my (voor en over Johnny Rotten)
Van Dyke Parks - The Four Mills Brothers
Led Zeppelin - Hats off to (Roy) Harper
Lonnie Johnson - Jelly Roll Baker
Alvin Robinson - Dedicated to (Fats) Domino
Eric Bogle - Safe in the Harbor (over Stan Rogers)
Eric Bogle - Katie and the Dreamtime Land (over Kate Wolf)
Kate Wolf - Poets Heart (over Eric Bogle)
Nanci Griffith - Ford Econoline (over Kate Wolf)
Greg Brown - Kate's guitar (over Kate Wolf)
Ian Dury and the Blockheads - Sweet Gene Vincent
Ian Matthews - Tribute to Hank Williams
Country Joe and the Fish - Janis
Mike Berry - Tribute to Buddy Holly
Maria Muldaur - Blues for Hoagy (laid back blues) (Hoagy is Hoagy Carmichael)
The Replacements - Alex Chilton
Bob Dylan - Blind Willie McTell
George Jackson - Aretha, sing one for me
Van Morrison - Jackie Wilson said
Don McLean - American Pie (een complete geschiedenis van rock 'n' roll tot dat moment, met speciale vermeldingen voor Buddy Holly, Chuck Berry, the Beatles en Bob Dylan)
The Pretenders - Back on the Chain Gang (Chrissie Hynde schreef deze hit over haar gitarist James Honeyman-Scott, die aan een overdosis gestorven was)
Leon Russell - Delta Lady (die lady was Rita Coolidge)
Mojo Nixon - Don Henley must die
Jackson Browne - For a rocker (de rocker in kwestie was Lowell George van Little Feat, die ook een tijd als gitarist voor Browne gewerkt had)
Rick Springfield - I'm not Bruce (Australische zanger die niet langer verward wil worden met zijn beroemde bijna-naamgenoot)
Loudon Wainwright III - Talking New Bob Dylan (over de frustraties van een hele generatie singer/songwriters die als de "nieuwe Bob Dylan" werden gezien)
Paul Simon - The late great Johnny Ace (over de dood van Johnny Ace en John Lennon)
The Commodores - Nightshift (over Marvin Gaye en Jackie Wilson)
Neil Sedaka - Oh Carol (Carol is Carol King)
Pink Floyd - Shine on you crazy diamond (over Syd Barrett, die de groep na een zenuwinzinking had verlaten)
Bob Dylan - Song to Woody (Guthry)
Bob Dylan - Blind Willie McTell
Neil Young - Tonight's the night (Gitarist Danny Whitten en roady Bruce Berry waren vlak na elkaar aan een overdosis overleden)
Eliza Gilkyson - Easy Rider (over haar vader Terry Gilkyson)
William Bell - Tribute To A King (voor Otis Redding)
Joan Baez - Diamonds and rust (over Bob Dylan)
Leonard Cohen - Chelsea Hotel #2 (over Janis Joplin)
Hee, dat is mijn kind!
The Beach Boys - Wendy (Brian Wilson over zijn dochter, die veel later zelf de muziek in ging als helft van het duo Wilson-Phillips)
Frank Sinatra - Nancy (with the laughing face) (dochter Nancy scoorde veel later een gigahit met These Boots are made for Walking)
Loudon Wainwright III - Rufus is a Titman (Zoon Rufus lag op dat moment aan de borst bij zijn moeder, Kate McGarrigle. Hij heeft met zijn solocariŽre op dit moment overigens meer succes dan zijn pa - ironisch genoeg afficheert hij zich zeer nadrukkelijk als homofiel).
Kijk, dit is mijn vrouw!
Paul McCartney - Lovely Linda
John Lennon - Oh Yoko